Whalesong Underwater Listening System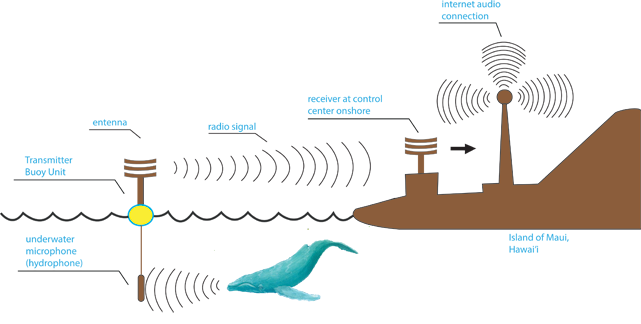 Whalesong is a gateway for educational and scientific study of sounds and activities of whales and other marine life. The Whalesong site feeds continuous live audio from a hydrophone (underwater microphone) in the Pacific Ocean near Maui, Hawai'i whenever the hydrophone system is active. The hydrophone is located in an area where whales and other marine life are regularly observed. Up to one hundred people can listen simultaneously to the hydrophone.
The Whalesong Audio System
"Hokumoanalani" (Star of the Heavenly Ocean) was launched on January, the 23rd 2005
The transmitter operates an omnidirectional vertically polarized signal at an effective radiated power of about 100mW on a frequency in the 2.4GHz FM band. This frequency is designated for Industrial and Scientific use in the band plan. The control operator of the beacon monitors the beacon, maintaining control of it by direct visual, radio contact, and additionally via an internet audio system. The natural environment audio which also modulates the beacon signal provides additional information for the control operator of the beacon such as conditions of the ocean waves and security of the station's floating anchored platform. The internet portal used by the control operator for monitoring is nuclearnews.com/whalesong. Whalesong and the control operator have no objection to guests listening to the beacon transmissions via direct radio reception or via other means such as via Whalesong's available audio bandwidth on a limited shared basis as streams are available.
The Whalesong project, including the radio system, hydrophone, audio feed system, web site, internet connection, floating platform, and beacon operation, was built and is operated entirely on a noncommercial volunteer basis to further the spirit of education, science, and experimentation. We hope that this work will foster better understanding and relationships with life in the undersea and surface environment of Planet Earth.
Beacon System Specifications
Location: Floating platform near Maui , Hawai'i
Beacon Frequency: 2.4 GHz FM
Power: 100 milliWatts Effective Radiated Power
Antenna: Vertically polarized dipole
The Hydrophone and Radio System
This bouy was used during the season 2003/2004
Season 2011
Season 2010
Season 2009
The early stages…
template-fullpage.php